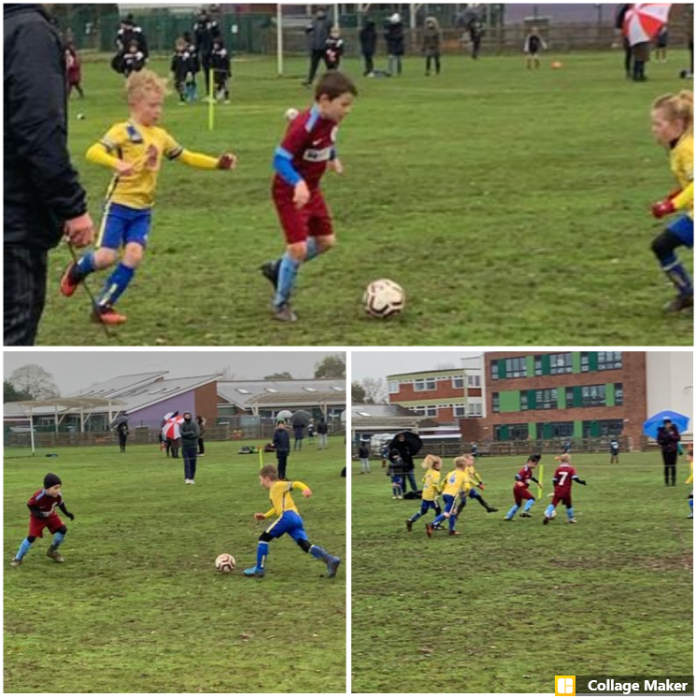 Saturday 12th Dec 2020 – 10.00 am
With the skies grey and a light rain starting to fall, a focussed looking Clarets team kicked off against the visitors.
Hillmorton were a little slow to start and Brinklow capitalised on this with early possession and pressure, forcing Freddie into two decent saves in quick succession.
Louie engineered a great 1-2 on the edge of their box but was closed down well just as he pulled the trigger.
This seemed to spark the Clarets into life, and the next few minutes saw them dominate possession with some great passing and movement between our players. However, soon after, Brinklow intercepted a simple goal kick and smashed the shot past our keeper.
Clarets fought back immediately, with high tempo passes and good pressure from us in their box, players were getting themselves into good positions, and despite Brinklow tackling well, Harman got a shot away which went narrowly wide. Soon after and against the run of play, Brinklow scored again, after a little too much time was taken with possession in the Hillmorton half.
Ed came to the Clarets rescue with the clock ticking down to half time, he was strong on the edge of the box and hit a hard strike past their keeper and into the net, which gave Clarets hope for the second half.
Alfie(new Alfie), on his full match debut, was combining well with his team mates, with intelligent passing and movement, always looking to move with the ball and pass to a player in space. This seemed to catch on and the rest of the team really started playing for each other, looking up and trying to find a pass, all the hard work in training starting to pay off. Heads were up and the energy was high, closing down better and a belief seemed to start to creep into the team. They knew they could come back as they had done it so many times in previous games. Louie's persistence on the edge of Brinklow's box lead to a goal for him with a hard drive past their keeper. Soon after, and on a wave of Clarets pressure, Harman curled one into the net from the left, and then Louie was inches wide of the right post when it looked like a tap in.
Clarets struggled to caplitalise on a number of corners due to a highly organised Brinklow defence. Brinklow were tackling hard and starting to disrupt the Clarets passing more, but a clever through ball by Louie from near the centre circle allowed Alfie to run onto it, he was clean through and his shot was just outside the left post. Just as it looked like Brinklow might be able to salvage something from the game, Harman angled a lovely shot from the right side of the box which surprised their keeper and went in.
Despite Harry and the other's strong tackling, Freddie was called into action several times in goal in the last few minutes as we tired and the visitors got desperate , but he was brave as always, and kept them out.
Louie B – man of the match.
Another relentless come back from the Clarets, they refuse to be beaten!