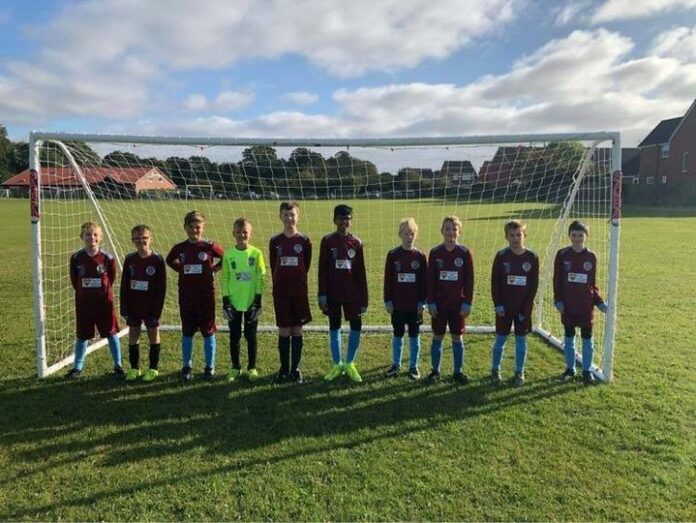 A fairly even first 10 mins with great passing, despite Brinklow only have 8 players on the pitch!!
A LOVELY turn by James whilst defending, passing 3 players and a strong drive forward, just no one able to get on the end of the cross. Brinklow took the lead in the 22nd minute via a well placed left footed finish from just outside the 6 yard box, 4 mins later Olly makes a great save to deny the lead being doubled. A fantastic block by George M in the 29th minute but unfortunately the ball came straight back in and Brinklow comfortably made it 2-0.
Brinklow in the ascendancy with another 1 on 1 saved by Olly Brinklow chance in the 32nd minute with the ball flying high over the fence and being replaced. The follow up shot that came straight in after the Blues goal kick was a cracking strike from outside the penalty area which buried into the bottom left corner, 3-0 Brinklow kept the pressure on & made it 4 in the 36th minute. George, Warren and Gopal (captain) all worked hard defensively with Olly in goal. Sam, Harrison, Tom G and George M started coming deep to try and support defence and create the service Noah needs up front. Brinklow made it 5 from the corner with a close range finish. Blues then started to have more possession and Noah pushing hard up front to make something happen. James hit a free kick from distance butnit went just wide. BLUES GOAL!! 54th min – Sam with strong shot from just inside the half way line catches the Brinklow keeper off guard with the bounce and the ball drops over the line 5-1
Blues attacking again and Noah's shot is saved by the Brinklow keeper. With 3 mins of normal time remaining a penalty is awarded to Brinklow after Gopal brings one of their players down just before the line,penalty converted bottom left of the Blues goal 6-1.
Terry awarded MotM to Olly the keeper.
Well done both teams for a well spirited match.