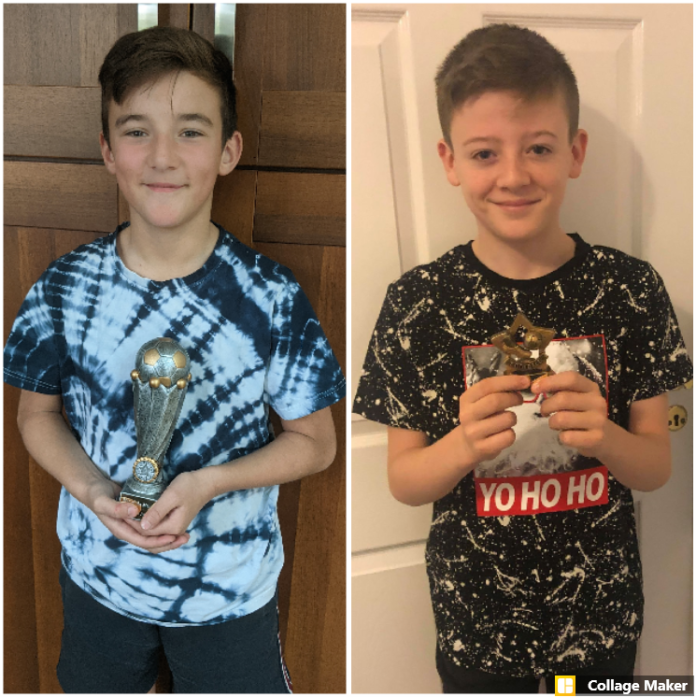 A famous pundit once said about football 'its a funny old game' and quite possibly this was one of those matches where all Hillmorton's hardwork and toil, just went unrewarded. The Juniors only had 9 players today and each and everyone of them put in a sterling performance, with a never say die attitude. St Finbarrs have been at the top of the table for most of the season but in the first 20 mins, it was the claret and blues that played some of the best football we had seen all year. TobyL and Archie stretched the play and Mason, TobyB and Joseph peppered the opposition goal with shots, but the St Finbarrs keeper was outstanding. Our defence, marshalled by Pacey kept the leagues top scorer quiet and both Ash and Tom pressed down the flanks to keep the opposition pegged back. There was though an underwhelming feeling that if we didn't score then it might come back to haunt us and with 10 minutes until halftime, St Finbarrs broke free and the wingers' cross hit the post and rather luckily bobbled toward a striker who had an open goal to aim at for 1-0. Within a couple of minutes they were 2-0 up and Hillmorton looked utterly disconsolate as they could barely comprehend how they were losing such a one sided game.
They trooped off at half time needing some encouragement and there was plenty of it from Luis and I.
A determined team went back out in the cold and rain to attempt to get back in the game, the next goal would prove crucial, but unfortunately it was St Finbarrs that stole it, but an unmoved Hillmorton continued to press forward and in the melee in the box TobyB freed the ball to Joesph Parra whose shot found the goal for 1-3. St Finbarrs responded with a cracking shot that beat Olly's outstretched hand to extend their lead to 4-1. Despite the cold and the tiredness creeping in the Juniors kept fighting and it was none other that Mason that finally converted one of his many opportunities to get his 8th goal of the season with a cracking drive from outside the box. However the clock was ticking down and despite a Herculean effort to win this game the lack of options on the subs bench and lack of minutes left proved too much and it was the league leaders that won the match…
A thoroughly enjoyable game to watch and a special thanks to those parents that watched our young gladiators in such atrocious conditions! I found out that my waterproof jacket wasn't and that we have a great team that will never give up no matter what! Very proud of them today especially as we were down to the bare 9…. well done all of you!
MAN OF THE MATCH – Joseph – At the heart of everything in midfield, showing off some silky skills and some real strength to hold off some heavy tackles, rewarded with a goal and was influential all game! Brilliant!
BEST EFFORT – TobyL – Great effort from Toby, tracked back and did a lot of unseen work, with his running off the ball. He made some incisive runs forward and looked the fittest player on the pitch! So much energy!