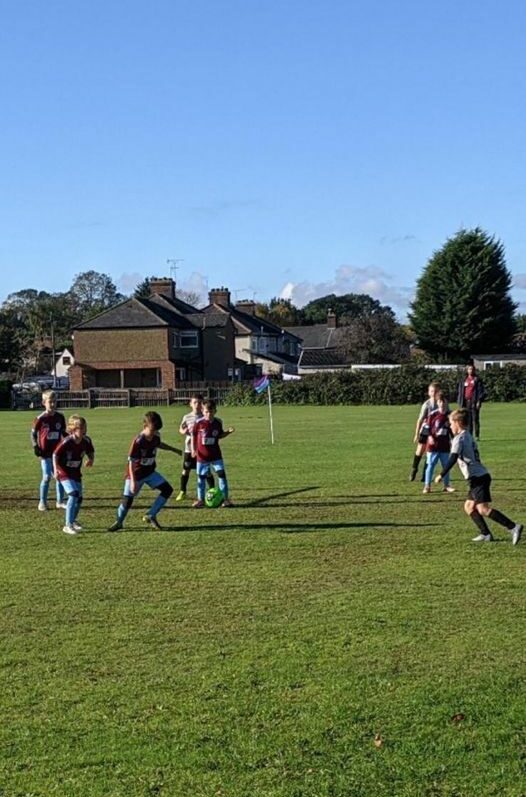 Match Report (Cup Semi-Final)
As expected the game started at a fast pace with CM Sports coming forward with intent, The Clarets kept their composure and matched the opposition in every area of the pitch. 5 minutes in Max M made a run which saw him clear through on goal only to be bought down by CM Sports desperate defending resulting in a free kick. Ronnie R stepped up to dispatch the free kick expertly into the top left-hand corner of the goal giving The Clarets the lead.
CM Sports continued to pressure The Clarets and 5 minutes later their efforts were rewarded with the equaliser, rapidly followed in the next minute by a strike straight at the keeper Zavi G who made a valiant attempt to palm it away only for the greasy ball to bounce off him into the back of the net.
The Clarets persevered and the usual dominance shown by CM Sports was absent, with some strong defending from Niko M and Sonny P and on 14 minutes Sonny made an excellent clearance which Ronnie R took on down the left wing, cutting in and releasing a shot with the outside of his right foot past the stranded keeper to restore the balance.
At half time nothing separated the teams.
For the first 13 minutes of the 2nd half the game remained evenly balanced, with both teams making regular substitutions with Harvey L helping out in defence when needed. Excellent play in midfield by Charlie H and Dexter E couldn't create a breakthrough for The Clarets and then CM Sports worked the ball into the box from the right hand side which was pounced upon by one of their attacking players to give them the lead once again.
The Clarets instantly hit back 1 minute later when a through ball found Arthur T with time to pick his spot and slot the ball into the back of the net to make the score all square once again.
As play continued from end to end the game was anyone's for the taking until CM Sports were awarded a dubious penalty for what was suggested to be a raised arm in the box, the penalty was subsequently converted giving them an advantage.
The final 10 minutes of the game found The Clarets still reeling from the penalty decision and consequently losing their shape as they began to tire leaving space for CM Sports to capitalise on, scoring twice more before the final whistle.
A hard-fought battle between 2 quality teams with a final score line that eventually did not represent the even ebb and flow of the game.
Well done to the whole team, Up The Clarets!
Man of The Match: Arthur T