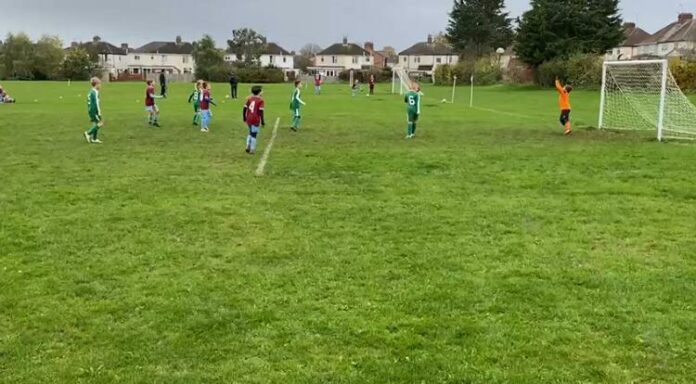 With a tinge of sadness in the air at the prospect of an impending lockdown putting a stop to footy, the Hawks took the opportunity to impress by going on the attack right from the off. Three early shots were fired from Riley forcing the goalie into saves, one being from a fine dribble down the left wing and cross by Lucas.
James S then got into the action, firing narrowly over the bar, before the deadlock was then broke following his free kick which but there was some debate as to whether Riley T got the last kick following a goalie scramble.
Bedworth then managed a good move of their own but Zak L, back from an ankle sprain, shielded the ball well to clear the danger.
Fin, the Hawks goalie, always alert, despite having little to do, then produced a fine diving save to clear a shot out of the blue from Bedworth but it didn't rattle the Hawks who went on to score two further goals before halftime. One from James following a Tom D assist and a fine solo goal from Lucas D who beat two with close control to score and continue his good run of goals.
Just before the half was up, Jeremy B's good positioning won a free kick for his team but Tom D shot high over the bar.
The second half started much the same, with Bedworth struggling to cope with a high press.
Lennon M then beat two players but lost his balance and so Tom took the shot, only to hit wide. Tom then tried to create a chance back for Lennon and managed to flash a cross along the goal line from the right but Lennon couldn't quite reach it to knock it in.
Defender Reece then produced a sweet driving run through the middle past two, to pass the ball through to his forwards but the chance was hit wide.
The Hawks then, kicked into another gear and the goals came flying in. One from Riley following a Lucas through ball then a long range strike from James.
The Hawks allowed Bedworth an extra player and shuffled the pack to try and even it up but James made certain of a hattrick when he scored following a fine Zak assist.
Tom then found his range to produce a worldie goal, from long range, then almost immediately following up with his second, being a fine lob over the goalie's head.
Lennon then had a number of powerful forward runs but with all the chances falling to his weaker left foot, his deserved goal just didn't come this week. The final goal then came for Riley, after a trademark tap in from a Lennon free kick.
The match was one where all players were so good that a single MOTM winner could not be picked out. however, special praise (and next weeks captaincy) is to be given to Isaac S who is solid, week-in week-out, making defending look simple and always doing what is needed for his team.