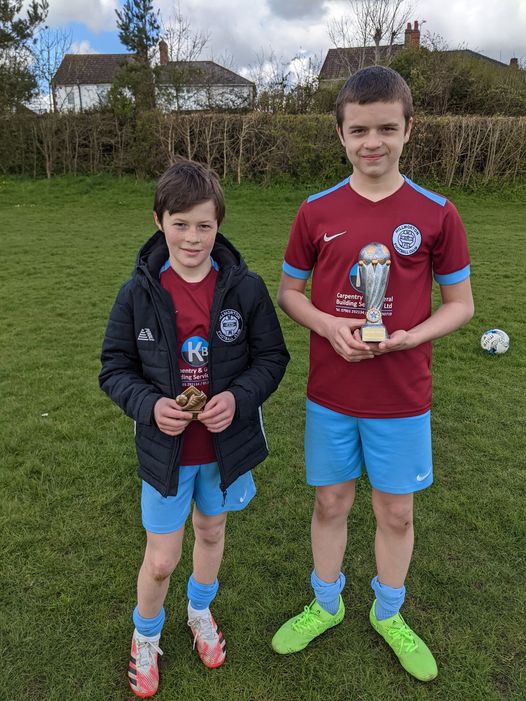 Coventry & Warks Youth League Div C
Hillmorton Juniors 4-1 Leamington Brakes
A return to league action for the Juniors saw a double header against our old foes from Leamington. The boys were given some clear instructions to take the game to the opposition, and to press and harass Leamington from the start. A four goal blitz inside 9 minutes was better than we could imagine! The first goal was created by TobyL
who found Mason
whose left foot shot found the corner for 1-0! He then created the second for Toby
who smashed the ball into the roof of the net for the second! Archie then danced through before his cross found Mason for his second! Mason then turned creator for Toby
who went round the keeper before performing a cheeky 'rabona' to put Hillmorton in a commanding 4-0 lead.
Leamington could have easily capitulated but in all fairness they dug in to stem the flow of Hillmorton's attacks in the second half. The opposition number 9 latched onto a defensive lapse and raced clear to nudge the ball past Olly
, for what turned out to be a consolation goal for the away side. Hillmorton's energy from the first half was very difficult to replicate and the 4-1 scoreline was a good reflection of the Claret & Blues dominance!
Coventry & Warks Youth League Div C
Leamington Brakes 1-3 Hillmorton Juniors
The return match saw bot teams find their feet with some attractive football and allowed the Hillmorton boys to put in some fine performances. It was great to see Dom and Jay coming back to their best with some great wing and defensive play, whilst Joseph
pulled the strings in midfield, ably assisted by Tom
. It took 6 minutes to break the deadlock and it was Joseph that found the top corner with an excellent free kick for the first! 12 minutes later and a lovely exchange of passes from Tom and Joseph found Tom through on goal and the tigerish defender come midfield maestro, carefully executed the end of a fine move with a wonderful finish for the second! Hillmorton were very much in control of the game but our defenders and goalkeeper were occasionally called upon to halt the opposition forays into our half. The second half needed a third goal and it came from an excellent run down the wing by Jay
whose cross was poked forward by Noah,  and it was Archie that arrived at the back post to score from an acute angle for 0-3! Leamington weren't done though and a speculative shot took a terrible spinning bounce to somehow find the net for their second consolation of the day. 
6 points will certainly have elevated the boys up the table. It was a great couple of games that will have given the boys enormous confidence. The smiles on Toby & Tom's faces when they scored reminded me of just what we have missed in the last strange few months! Well done all of you!
MAN OF THE MATCH – Mason – 
He was a real machine today, all over the pitch 2 goals, 2 assists and then asked to play a defensive role which he revelled in! Seems to have turned in a mountain of a boy during lockdown! Outstanding!
BEST EFFORT – Archie – 
Got himself a goal and an assist today and was constantly stretching play on the wings, never gave up and always battled to get the ball back when not in position! Fantastic!