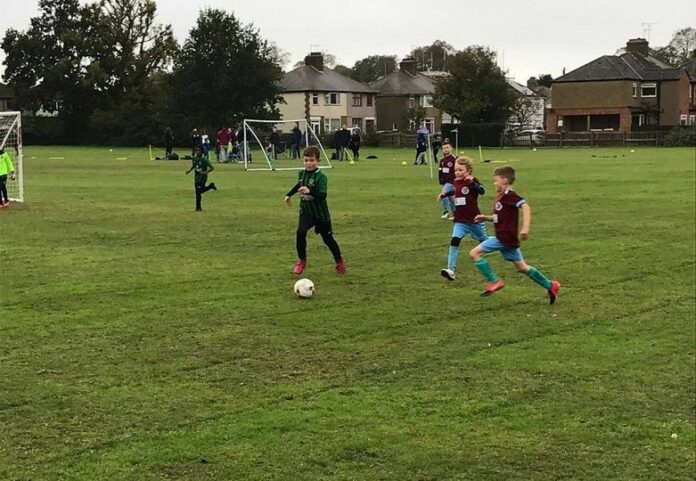 Hillmorton had a break in league fixtures this weekend, so took the opportunity to play a friendly against a strong Warwick Juniors team.
The boys really stood up to the test in the first half, creating chances and keeping their shape. We took the lead after 10 minutes via a trademark goal from Max. Eddy played the ball across to Max who touched it wide around the defender then cut back in and struck a terrific high shot under the crossbar. The lead doubled soon after. Cavan intercepted the ball on the halfway line and played a lovely ball through to Paddy who ran onto it and simply passed it into the bottom corner of the net. It's really pleasing to see such composed finishing developing in his game. Felipe once again played a pivotal role as a holding midfielder with some great interceptions and effective passing. Riley up front battled against a strong physical defence, held the ball up well and brought others into the game. Goalkeeper Charlie H had little to do in the 1st half but was alert when Warwick broke through our defence, producing a fine save at his near post.
The 2nd half was a very open game. Warwick played some great football and attacked in numbers. Second half goalie Eddy did well to save a powerful shot but Warwick were alert to the rebound and smashed it over the line. We had our chances, Charlie H won the ball in midfield and played a nice pass though to Riley who saw his shot blocked.As the match went on Hillmorton left more and more space in the midfield and Warwick exploited it well, scoring a deserved equaliser.
A fun penalty shootout followed and the teams couldn't be separated. Good game all round with both teams dominating a half.
The last few weeks a strong partnership between defenders Cavan, Charlie and Daiton has formed which is pleasing. They trust each other, read the game well and play an important role in turning defence into attack.
MotM Paddy, always involved in attack and defence