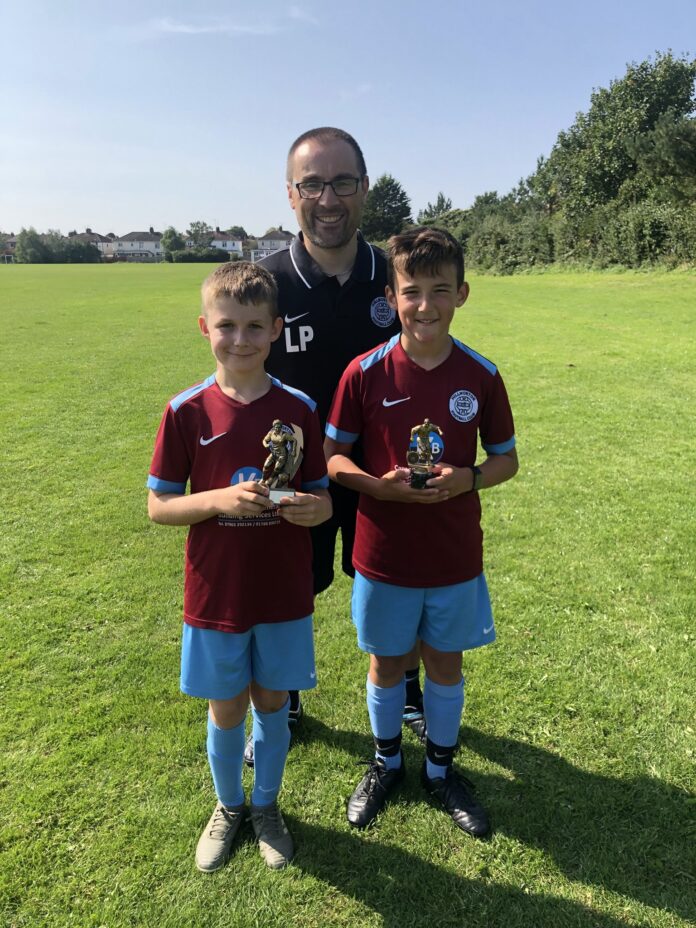 Sponsored by K.B Carpentry & General Building Services & Attingham Consulting Engineers Ltd
Hillmorton did enough to take the points yet again, but in the end were denied the win with some wasteful finishing and some contentious refereeing decisions. The Juniors were not anywhere the standard we come to expect in the first half, the passing wasn't fluid and there were too many high balls that were aided but the wind taking those passes too far for anyone to chase. It was Meridan that peppered Olly's goal with shots but the defence and him stood steadfast against the onslaught. Ash, Tom and Dom did enough to keep the attackers at bay. Joseph and Mason were kept busy but the passes to the wings and forward were wasteful and Hillmorton just couldn't test the opposition keeper. It took an inspirational tackle from Tom, who was outstanding all game, to break down the opposition and thread the ball through to Mason, who in typical fashion, powered through to belt the ball past the keeper for 1-0. Much against the run of play but welcomed by supporters and coaches nonetheless.
The boys trooped off at half time knowing that they could do so much better and in the second half it was the Juniors that took control and heaped the pressure on. Jay came on for some tired legs to provide some assurance at the back and Riley switched to centre forward, allowing Archie to switch to the left wing. Archie stretched the play with some fine wing play and Riley held the ball up allowing the wingers and midfielders to rampage forward and create chances. Remarkably it was the Lions that somehow equalised with a defensive lapse allowing the striker to hit a shot inside Olly's near post for the equaliser. This prompted Hillmorton to hunt for winner and both Mason, Archie and Jakub had chances to score to put the game to bed, plus a good shout for a penalty, but it wasn't to be.
A frustrating game at times, scrappy ,with the boys playing in fits and starts. The match leaves us in 7th place out of 12 teams, but we are unbeaten and that's down to some great defensive displays! What we need now is our forwards to start hitting the goals and we will be fine! Onwards and upwards……
MAN OF THE MATCH – Tom – Has settled in magnificently and has taken on the mantle of Gandalf ('Thou shall not pass!') admirably! Was so solid all game and his passing was brilliant, great decision making and a pleasure to watch! Love his smile when he picked up the trophy, he looked so surprised! Excellent!
BEST EFFORT – Joseph – Pulled the strings in midfield and effortlessly brought other players into play, did the hard work that people don't notice, especially when his midfield colleagues went in search of a winner! Ultra consistent as usual!