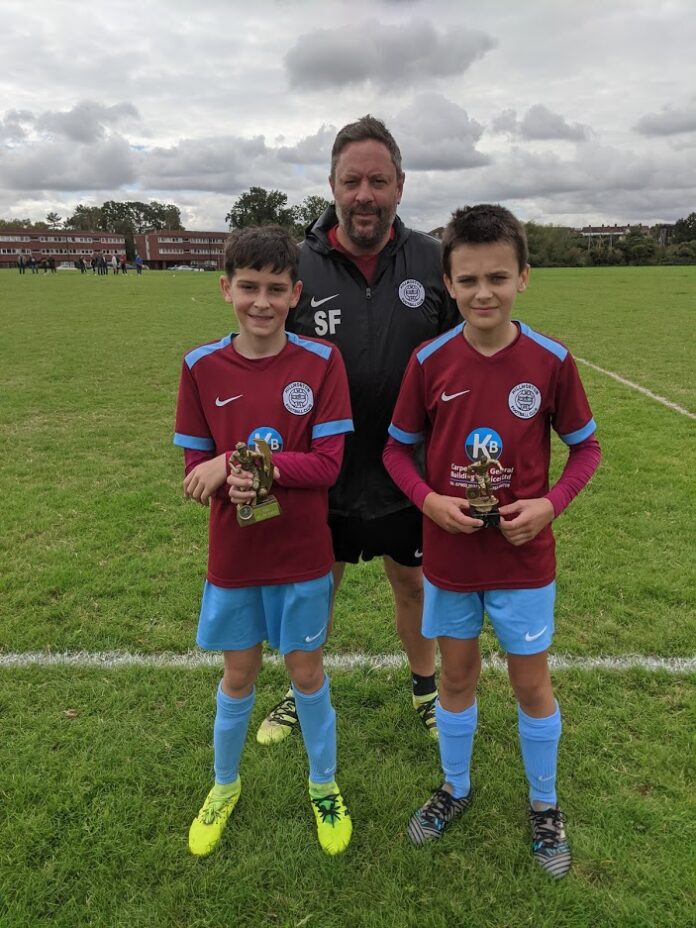 It seems like a lifetime since the Juniors set foot on a competitive field and in true Hillmorton fashion the boys took part in a fantastic match. Both sides went about the game in cautious fashion to test each other out, but it was the claret and blues that forced the issue with Mason, Archiel, TobyL and TobyB forcing the opposing keeper into a string of fine saves and the post saved Ambleside on at least 2 occasions. Using the full width of the pitch Hillmorton's wing play was dazzling at times, backed up by some eager defenders in Ash and Tom who always wanted the ball. Remarkably it was Ambleside who struck first, with some defensive hesitancy allowing the forward to chip the ball over the advancing Ollie for 1-0. Within minutes though it was Hillmorton that struck back with Pacey finding Mason, who with his back to goal, muscled his way through with a great run and sent a right foot shot into the corner for 1-1. Ambleside dug in and after a succession of 6 corners they nodded home the ball for 2-1.
Luis & I now have a squad of 14 which allowed us to shuffle the pack and aid some tired legs. It was one of those subs that proved decisive, Toby burst through on the left hand side and took a drive across the keeper, who spilled it, allowing the 'ghost ' himself Noah to despatch the equaliser, much to everyones delight, before half time!
The second half was equally thrilling with both sides wanting to take control of the game, the shots became fewer and it turned into a real midfield battle, with both Pacey and Joseph having to dig in with a gutsy display. But again it was Ambleside that got their noses in front, questioning the Hillmorton desire to get back in the game. Both Riley and Archie had gilt edged chances to equalise but they just couldn't find the net and it just seemed that the game going away from them in the dying minutes. With some of our influential players on the sidelines it was time to get them back on the pitch and with seconds left, it was Mason that battled his way through and sent a lovely pass down the right. 'Cometh the hour cometh the man'…. it was none other than TobyB who whose burst of pace found himself in front of goal and with an ice cool temperament he sent a super shot in off the post for a well deserved equaliser!
It was a fantastic way to finish the game although its fair to say that we really should have won it as on balance Hillmorton were the better side, but a point is a god way to start the league and it puts us in a healthy 6th place in Division C.
Well done too our new signings Tom, Pacey, Riley and Jakub who have integrated brilliantly
MAN OF THE MATCH – Pacey
He was asked to play in several positions and was comfortable in all of them, but particularly just in front of the defence where is natural athleticism helped out a few tired legs, a real box to box midfielder! Outstanding!
BEST EFFORT – Toby B
Oozed confidence whenever he had the ball and was threat all day, one of the fitness players we have and can run all game scaring the life out of the opposition at times, very fitting that he got the equaliser too! Brilliant!