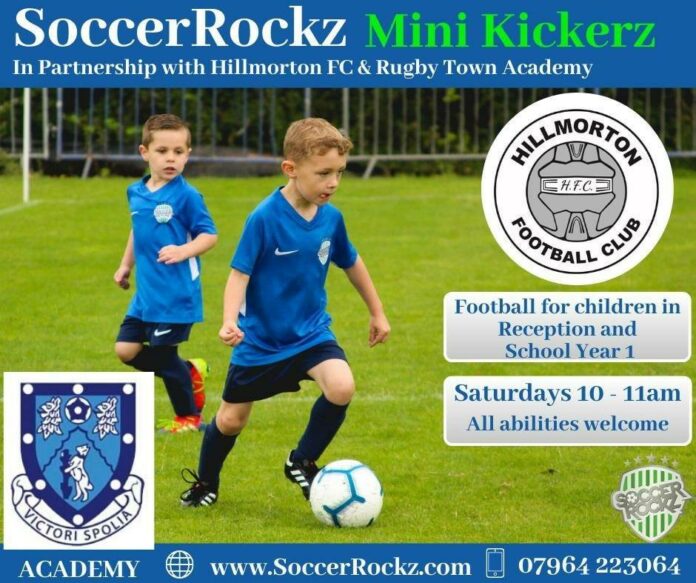 Hillmorton FC are delighted to announce that starting next Saturday, 18th July 2020, we officially begin our new and exciting partnership with SoccerRockz for our youngest players in Reception and Year 1.
SoccerRockz's Mini Kickerz programme has always been extremely popular and is based on learning through having fun.
Hillmorton Football Club and SoccerRockz have the same values when it comes to grassroots football, priding themselves on offering a friendly and relaxed approach to football, yet maintaining an exceptionally high standard of coaching.
Hillmorton FC chairman Ian Grimsley said
"This is another exciting chapter for Hillmorton FC, Rugby's oldest established family grassroots football club, following on from its recently announced partnership with The Rugby Town Academy.
Our aim is to give the very youngest in the club the best possible start to, developing, playing and enjoying football.
I would like to thank SoccerRockz Mini Kickerz and The Rugby Town Academy for their partnerships in this exciting venture".
Tom from SoccerRockz commented
"Our experience working with younger players, provides us with a specific and unique understanding of how to bring out the best in everyone who joins us.
We jumped at the chance of partnering with Hillmorton Football Club and Rugby Town FC Academy, who share our passion for football. We were also very much inspired by the head coaches of both organisations, who were in complete agreement that focus should very much be on helping children into grassroots football at a speed that is relevant to their needs."
Rugby Town FC Academy manager Liam O'Neill commented
"This exciting new partnership between ourselves, Hillmorton FC and Soccerockz is something that we can all start to get very excited about .
The academy alongside our new junior section, Hillmorton FC, feel that forging strong and positive links with such a well renowned local junior coaching provider in SoccerRockz can only be of huge benefit to any child who wishes to start to learn the game. Being able to offer and deliver weekly top class coaching sessions from ages 4 and above is something that we can all be very proud of moving forward "
"I've known Tom, SoccerRockz owner, for many years during our careers in football and I know how professional, driven and adept he is in terms of developing the footballers of the future, which in this instance is The Academy's and Hillmorton's future footballers .
"This partnership will also give opportunities to our full time academy scholars to coach the youngsters and help them gain invaluable experience towards gaining their coaching qualifications under the watchful eye of SoccerRockz. "
"I can't wait to for us all to be able get going again and help play a part in all of our player's future development ".
Returning to work with the SoccerRockz coaches will be last years Minis coaches, Alice & Kerri, also joining them will be players from the Academy as they continue their learning about the coaching side of the game.
Please find below the link to register your interest. We will contact you with full joining instructions very soon!!